Bob Ruman – GT-1 Corvette: #23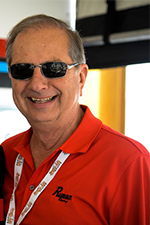 2005-2007 Season Highlights – Ruman focused on crew chief duties for Amy Ruman's NE Division GT-1 points bids. In 2007, he captured the GT-1 pole and finished 1st at the SCCA Mid-Ohio National. Bob also jumped in a Spec Racer periodically to compete in a few races for fun.
2004 Season Highlights – Finished 13th in the Trans-Am series points standings, running a short season of just only four races. Bob ran a partial Trans-Am season this year as he concentrated on being the team owner/data engineer for his daughter Amy as she ran the #23 in a 12-race SCCA National GT-1 season. Bob hit the Trans-Am circuit competing in Long Beach with a 12th place finish, Cleveland where he grabbed another 12th, at Trois-Rivieres where he took home a 5th, and Road America with a 9th.
2003 Season Highlights – Finished 15th in the points standings, with just only running 5 races this season in the MotoRock Trans-am Tour for the BFGoodrich Tires Cup. Bob had to run a partial Trans-Am season this year due to some unexpected health issues. Shortly after Bob ran the February Trans-Am season opener in St. Petersburg, he was diagnosed with kidney cancer. He was forced to put his Trans-Am season on hold for the first time in 8 years. Ruman is now cancer-free and returned to the series to run Cleveland, Trois-Rivieres, Road America, and finished the season with 5th at Puerto Rico. Westward Tools honored Bob at the Trans-Am end of the year banquet, giving him the 2003 Westward Tools Tough Guy Award for beating cancer.
Sponsors – Cenweld Corp., is based in Cuyahoga Falls, OH and is a nationally recognized, final stage manufacturer of motor trucks for commercial, utility and municipal applications located in Cuyahoga Falls, Ohio, 800.669.0599.
McNichols Co., headquartered in Tampa, FL, is the largest U.S. distributor of "Hole" products with service centers across North America. McNichols' product selection is the most diverse in the industry. McNichols stocks Perforated products (both metal and plastic). A toll free number (800.237.3820) connects you to the McNichols Co. distributor in your area and the company's extensive website, www.mcnichols.com, has online customer service and online ordering.
Personal – Born on February 27, 1942, in Massillon, Ohio, Bob resides in Munroe Falls, Ohio. Bob is Vice President of Cenweld Corporation. He has a B.S. in mechanical engineering from the University of Akron. Bob's family includes wife Barb Ruman and daughters Niki and Amy.